Show your opponents what real metal is! Fight in time to music by playing your instrument or using it as a weapon, throw your opponents out of the stage and win the glory of the crowd in this spectacular brawler game!
It's raining Fists and metal
Main Features
1 to 4 players on the same screen
Play with friends or against the computer
Dominate your opponents moshing and fighting them to the beat of the Metal to throw them off stage
Play 8 different metal tracks composed specifically for the game
Select your guitarist and customize his clothes and his instrument
Play on different maps, each with unique power ups
Unique characters with a defined personality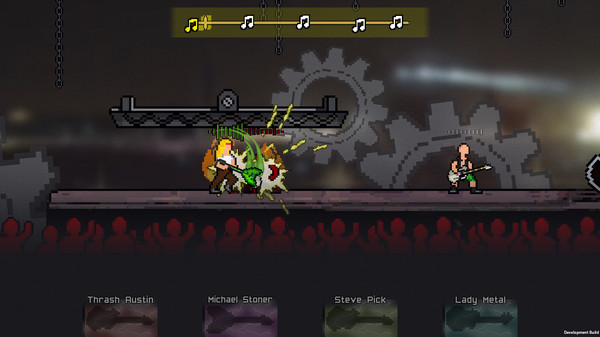 Fight in sync with the music
: Attack enemies to inflict damage, play in time to save yourself from their blows and mosh them offstage to win.
Pick up items
like amps and instruments to use in the battle.
Prove who the true god of Metal is
by playing in the spotlight until you get the final attack: A guitar solo that will devastate your opponents!